Let's start with what at first sight seems an illogical choice: to make tennis and golf clothes in wool.
"It seems, but it absolutely isn't. Think of the summer clothes of businessmen or the tunics of the desert populations, are they not made of wool? Merino (I want to specify, not all wools, but only merino wool) is extremely performing. Due to the natural properties of its fiber, it has very interesting technical characteristics for the sports field: it is breathable, thermoregulatory, antibacterial, hypoallergenic, easy-care, as well as natural and biodegradable; in short, I call it the detox of textiles. Coming from a renewable source, it saves us from petroleum derivatives which are used in profusion in sportswear. Furthermore, its use in some sports, such as outdoor and mountains, but also sailing, is already widely tested. Obviously the Daema collections use merino wool jersey in different weights depending on the season ".
So everything revolves around a concept of naturalness?
"Daema's fil rouge is the search for beauty and goodness. The models, rigorously produced in Italy, are sophisticated, original, tailored and also responsible, because they go in the direction of the circular economy. I hate textile waste and senseless consumerism, for this reason the life of our garments does not end in landfills, when they are discarded we recover and enhance them, transforming them into very exclusive accessories, through original modeling reworkings and fabric coupling ".
Let's take a step back, what was the driving force that pushed you to create Daema?
"My personal need to wear clothes made with natural fibers while playing tennis and the disheartening realization that the market was almost entirely without them. The famous light bulb came on and I began to find out, discuss and tune in to the preferences and needs of tennis friends and golfers. I soon realized that many sportswomen felt the same need as me to wear natural garments with a more refined style. The starting idea was cotton, then I came across merino and its Italian production district: Biella. A world of charm and excellence opened up to me in which it was a privilege to immerse myself. It was April 2018, two years later the project had already materialized ".
But fashion was not really a stranger to her
"I worked in the steel industry and then in the beauty industry, but my first professional experiences were during my university years in the family business: alongside the purchasing staff and as sales manager in the shops of my father, an entrepreneur visionary and of great aesthetic taste in the field of women's and children's clothing. We had several shop windows in Bergamo, our city. My favorite was Babù, a children's clothing boutique, which in the Eighties offered the first brands in mini sizes ".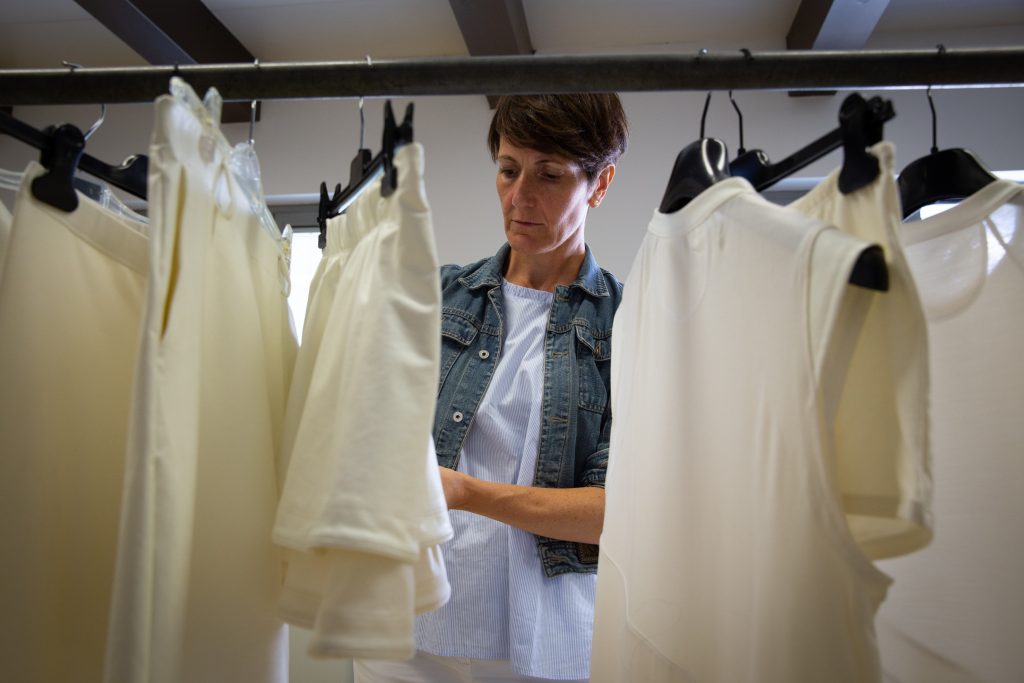 How would you define the Daema style?
"Feminine, sophisticated, contemporary and with the Italian style in its DNA"
How many models does the line consist of?
"There are ten or so: there is the sleeveless dress, the coordinated polo and Bermuda shorts or tank top and skirt, plus a range of accessories: socks, cuffs and headband. In all of them the sporty-chic mood and the use of special models, studied directly by me and by our designer together with a well-known Milanese image consultant, are clear. In fact, the shapes satisfy different physicality needs and are designed to enhance the strengths and femininity of every woman, who can find her perfect garment within the collection. The irreplaceable one, which will orient it towards the virtuous practice of buying less but better, reducing waste. The chromatic choice enhances the purity of the off-white to which we will gradually approach other warm shades ".
Do you have an inspiring muse on this path?
"Not one, many. Daema is designed for committed, established women who, between work and family, manage to carve out time for sport and for their passions. Without losing sight of the care of the planet ".
What is your signature garment?
"The Tulip, a set consisting of a sleeveless top with a teardrop neckline and a skirt constructed from overlapping petals of coated cotton".
And which do you choose for yourself?
"Again, the Tulip. It's super-chic. On the pitch it's very dramatic, because the petals break up, accompanying the movement of the body during the game".
Where is Daema manufactured?
"The production is totally Italian starting from the Biella fabric up to the tailoring, entrusted to artisan workshops that ensure an impeccable quality standard and allow us to make minimum quantities for a niche business like ours".
Where can you buy Daema?
"Where our customers wish: at home, at their sports club, or in their hotel or luxury resort, if they are travelling to Italy, for work reasons or for pleasure. So that our customer can live a full, satisfying, and exclusive shopping experience. But even in few selected boutiques. And, of course, online, but only at our daema.it store."